Site Update: Carbon Dates for a possibly trepanned man at Shrivenham
Site Update: Carbon Dates for a possibly trepanned man at Shrivenham
CONTENT WARNING: HUMAN REMAINS
This post contains pictures and discussion of human remains.
In 2018, excavations at Highworth Road, Shrivenham, Oxfordshire revealed a densely occupied area with a variety of features dating from the Iron Age through to the late Roman period.
Above: close up site plan of an area of the excavation site
We have recently received the results of the carbon dates for one of our most exciting finds from the excavation. The cranial remains (skull) of an adult male was found in a pottery vessel with a possible sheep or goat mandible. The context of this find in itself is interesting as the rest of the skeleton was not present.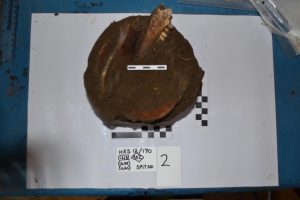 Above left and right: the cranium and pottery vessel during post excavation
The pathological analysis showed both well-healed and active pathological changes to the bones. The most unexpected change was signs of a minimum of four well healed incisions, three of which appear to form a pattern.
Above: the cranium showing at least four well healed incisions
It is possible that these incisions were done in an attempt to ease the symptoms caused by the other pathological changes observed in a process known as trepanation. This individual survived the surgical procedure for a significant period of time as the wounds were well healed.
The carbon dates confirm an Iron Age date with results being 362-152 BCE. Confirmed cases of trepanation in the archaeological record is quite rare. Most of the evidence from the Iron Age shows that trepanations were performed post-mortem to potentially suspend a skull from a rope.
A full report will be published in the near future with a full analysis of all the findings.
For information about similar sites please explore the links below.
Our most recent publications can be found here: NewsWith a fuller description here: Publications List
If you wish to keep informed of projects like these, or any other TVAS investigations, please follow us on Facebook and Twitter.