THAMES VALLEY ARCHAEOLOGICAL SERVICES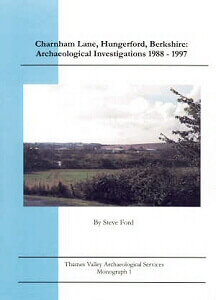 Monograph 1: Charnham Lane, Hungerford, Berkshire
The first volume in the series details the evidence of a long, if intermittent human exploitation of this floodplain landscape.
Although a few Upper Palaeolithic/Early Mesolithic flints were found, the earliest securely dated features were later Mesolithic fire pits, which contained charred plant remains, suggesting they were used for cooking. Other concentrations of late Mesolithic flintwork came from surface collection, both on the floodplain and on a gravel 'island' rising above it.
Early Bronze Age finds include three components: a pit circle, an adjacent occupation area, and detailed environmental evidence derived from a pollen sequence indicating, for example, that woodland clearance did not begin until the early Bronze Age.
There is then a lengthy gap in the use of the area until a small settlement was created in Saxon times. Most of the structures and deposits on the site, however, were medieval. A bi-focal settlement seems to be indicated, most probably neighbouring farms, created in the 11th-12th centuries and lasting until an abandonment probably in the 14th century. Although finds of this period were not abundant, environmental evidence allows a reconstruction of a mixed farming economy.
A4 soft cover, 87pp, illustrated throughout
ISBN 0-9544006-0-7
Price: £10.00
Monograph 2: Prehistoric, Roman and Saxon Sites in Eastern Berkshire
Five excavations in eastern Berkshire are described in this report. At Horton, investigation of penannular cropmarks revealed a complex Neolithic monument with clearly structured deposition of numerous artefacts, overlain by a series of late Iron Age and Roman features. Work on a pipeline at Barkham Square turned up a late Bronze Age burnt mound, a rarity for southern England.Very ephemeral traces at Fairclough Farm, Bracknell turned out to be remains of a middle Iron Age settlement.
At Bath Road, Slough, late Iron Age and Roman field systems and other features were very reminiscent of the finds of these periods from Horton. Finally, multi-period occupation at Waylands Nursey, Wraysbury, ranged from the late Bronze Age through the Roman period and into the early Saxon. All of these sites, despite their differences, attest in their own way to the intensive exploitation of this small part of the Thames Valley, over a long period.
A4 soft cover, 158pp, illustrated throughout
ISBN 0-9544006-1-5
Price: £10.00
Monograph 3: Excavations at Cippenham, Slough, Berkshire
Volume 3 explores a series of multi-period sites that cover an extensive landscape to the south of Slough, tracing development from the Neolithic to the Medieval period. A major housing development on the 'Cippenham Sector' at Slough provided opportunities for archaeological excavations on several sites. The remains uncovered span some 6000 years from the early Neolithic to the Post-medieval period and reveal the changing face of this Thames Valley landscape under almost constant human influence throughout this time.
Earlier Neolithic evidence seems to relate mainly to domestic occupation, although the patterns of deposition suggest a ritual component. Later Neolithic activity is less abundant and less easily characterized but may also include ritual aspects. This theme continues into the Bronze Age, with a ring ditch and numerous cremation burials, both in a cemetery and also spread across the landscape. There is some evidence for occupation in the Middle Bronze Age, but more substantial occupation remains appear in the Later Bronze Age.
From the Middle Iron Age until the middle Roman period, the area appears to have been more or less continuously farmed, with remarkable continuity through this span, when it is more usual to expect marked breaks in the rural landholding pattern. The landscape in this period was dominated by small individual farms. An apparent abandonment in the 3rd century AD led to a remodelling and a lessening of the intensity of all kinds of activity, eventually leading to a total lack of evidence from the 4th century into the Saxon period. By medieval times, occupation was concentrated in one small part of the area investigated. It is likely that by this time most of the land was included in Cippenham
A4 soft cover, 158pp, illustrated throughout including 5 colour and 5 black and white plates
ISBN 0-9544006-2-3
Price: £10.00
Monograph 4: Bronze Age, Roman and Saxon sites on Shrubsoles Hill, Sheppey and at Wises Lane, Borden, Kent
Two excavations between 1999 and 2001 by TVAS shed light on the early development of the landscape on either side of the Swale in north Kent. On Shrubsloes Hill on the Isle of Sheppey, a Bronze Age landscape included a ring ditch (and presumably barrow), with associated cremation graves, a single linear ditch, and later a ditched enclosure and a flat cremation cemetery. The barrow was re-used when the site was occupied in the Saxon period.
At Borden, near Sittingbourne, three phases of development of an agricultural landscape can all be dated in the 1st century AD, when a droveway was flanked by changing patterns of field systems. This site also held a contemporary cremation cemetery. The site is of interest as it shows essential continuity of landholding and farming practice through the years either side of the Roman conquest.
A4 soft cover, 90pp, illustrated throughout including 8 colour plates
ISBN 0-9544006-3-1
Price: £10.00
Monograph 5: The Archaeology of the Aylesbury-Chalgrove gas pipeline and the Orchard, Walton Road, Aylesbury
Investigations along the route of a new gas pipeline produced evidence of a variety of types of site spanning periods from the Bronze Age to the Saxon era. These included, in Buckinghamshire, an Iron Age site at Chilton Grove and a late Roman site at Peppershill Farm, and in Oxfordshire, a late Bronze Age site at Latchford, Iron Age and Saxon settlement at Rycote, and Iron Age and Roman sites at both Corrnwell Copse and Warpsgrove.
At Walton Road in Aylesbury in the Middle Bronze Age at least four roundhouses occupied the site. A middle Saxon settlement consisted of at least eight post-built hall houses, one building using a foundation trench construction, and one sunken featured building (or grubenhaus).
A4 soft cover, 90pp, illustrated throughout including 8 colour plates
ISBN 0-9544006-5-8
Price: £10.00
Monograph 6: Iron Age and Roman settlement and landscape at Totterdown Lane, Horcott near Fairford, Gloucestershire
This part of the Upper Thames Valley is rapidly becoming one of the best-mapped areas of Roman Britain. Excavations at two quarry sites in Gloucestershire revealed a dynamic pattern of land-use and settlement extending from the middle Iron Age through the entire Roman period and into the early post-Roman era. In the middle Iron Age, the site was clearly a settlement area with two broadly contemporary clusters of round houses, metalworking activity and associated fields.
The Roman evidence consisted mainly of ditched land divisions spanning the entire four centuries, and although there was no direct evidence for any settlement, there must have been one nearby. The remarkable density of features in this landscape shows an almost obsessive emphasis on the redefinition of boundaries, which contrasts with other recent large scale investigations in the area where a much more open landscape has often been revealed.
A4 soft cover, 108pp, illustrated throughout including 9 colour plates
ISBN 0-9544006-4-X
Price: £10.00
Monograph 7: Reading and Windsor: Old and New; Excavations 1995–2002
This volume presents the results of seven small excavations in the hearts of the modern towns of Reading, Old Windsor and New Windsor. Surprisingly little work has previously been published from these towns, other than the extensive work at Reading Abbey. We examine two sites on Friar Street in Reading and one on Castle Street, highlighting the medieval development of the town.In Windsor, evidence comes from three sites in the shadow of the great Norman Castle, one on High Street and two on Thames Street, exploring the changing medieval topography. From Old Windsor, we report on a post-medieval house at The Manor.
A final section explores the major finds (pottery and animal bone) and gives an overview of archaeological evidence for several centuries of town life by the Thames in Berkshire.
A4 soft cover, 211pp, illustrated throughout including 6 colour plates
ISBN 0-9544006-6-6
Price: £15.00
Monograph 8: Excavations in Medieval Abingdon and Drayton, Oxfordshire
Two excavations on Ock Street, on the western side of Abingdon in Oxfordshire reveal fascinating details of medieval and early post-medieval tanning, leather working and horn processing, which apparently began on the north side of the street (75 Ock Street) in the 13th or 14th century and moved to the south side (on the site of the later Morlands Brewery) by the late 14th or early 15th century. These noxiously anti-social activities would have been located on the fringes of the town or even slightly outside it, but it appears that the proprietors made a good living from the business, as both sites were able to afford a certain amount of luxury, including imported pottery, while their workers appear to have subsisted on a diet that was more liquid than solid, presumably mainly beer (appropriate on a site that was later a brewery).
Beyond Abingdon itself, this volume also examines a small area excavation at Abingdon Road in nearby Drayton, where a medieval field system of paddocks and droveways was successively altered from the 11th to the 14th century before being abandoned. This site provides a marked contrast to the sequence of continuous urban development seen in the town itself.
A4 soft cover, 121pp, illustrated throughout including 20 colour plates
ISBN 0-9544006-7-4
Price: £15.00
Monograph 9: Archaeological Investigations in the Silchester Hinterland
Silchester is one of the best-known and best-preserved Roman towns in Britain. A series of archaeological investigations conducted as part of the planning process has added to our knowledge of how the landscape around the site of the Roman town was used and developed.
None of the archaeological sites reported here is remarkable by itself, nor are there abundant finds, nor any spectacular individual find to record, but the steady accumulation of evidence from many such small sites can transform the way entire landscapes are perceived. This has been facilitated by the consistent application of planning guidance to ensure archaeological sites are recorded in advance of development, and planning policy is now a crucial tool in archaeological research.
The investigations reported in this volume include: two fieldwalking surveys, of the Loddon valley and the area immediately around Silchester itself; excavations including an Iron Age iron smelting site at Arborfield a Roman cremation cemetery and medieval building at Mortimer; a medieval oven also at Mortimer; late Iron Age to Roman enclosure at Little London Road, Silchester; results from a watching brief along a pipe-line around the southe of the study area, with important finds from Latchmere Green and elsewhere; and finally an evaluation which produced the first evidence for Late Bronze Age/Ealry Iron Age exploitation of the Silchester area.
These sites can be better appreciated in conjunction with work reported in TVAS Monograph 13, which takes us north to Reading; and Monograph 12, which explores an area towards Thatcham and Newbury. These volumes taken together provide a long-term view of a wide tract of landscape within a day's journey of the Roman town.
A4 soft cover, 164pp, illustrated throughout including 9 colour plates
ISBN 978-0-9544006-8-2
Price: £15.00
Monograph 10: Archaeological Investigations in Wallingford, Oxfordshire, 1992-2010
The role of the planning system in archaeological research Wallingford, on the River Thames in south Oxfordshire, is one of the country's best-preserved medieval towns, with origins as a late Saxon burh. It retains its medieval street plan to a remarkable degree, and substantial remains of the Saxon defences and Norman Castle survive.
Yet there is much still to learn about this historic town. Numerous small archaeological investigations initiated as a result of planning legislation are showing how even apparently disconnected pieces of work can add important evidence on the layout and development of the town. This volume in the TVAS Monograph Series brings together the results from almost two decades of investigation at more than a dozen small sites, none of which by itself is especially remarkable, but which produce new insights when combined. They also demonstrate how the requirements of the town planning process can effectively direct research, and amount to a local success story. These results should be viewed as complementary to the research-driven investigations of the academic and community-led Burh to Borough Project currently running in the town.
A4 soft cover, 121pp, illustrated throughout including 15 colour plates
ISBN 978-0-9544006-9-0
Price: £12.50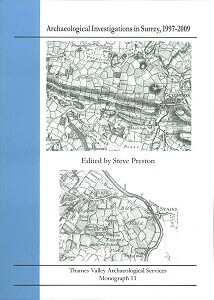 Monograph 11: Archaeological Investigations in Surrey, 1997-2009
This volume reports the results of archaeological investigations in advance of development at eight sites in Surrey; in Merstham, Burgh Heath and Staines, two in Egham and three in Guildford. At Battlebridge Lane in Merstham, we find a late Iron Age to early Roman settlement enclosure, along with some prehistoric and Saxon evidence. At Chapel Way, Burgh Heath, provides a probably Iron Age ring gully, along with Roman and medieval features. A very large area examined at Manor Park, Guildford, revealed evidence for intermittent occupation spanning the Bronze Age, Iron Age and Roman periods and medieval settlement near the moated manor house. Moor Lane Staines offers Saxon and medieval occupation.
Samples of Saxon pottery have been thin-sectioned and chemically analysed, and radiocarbon dated as a baseline for future work. Two sites on the High Street in Egham produced limited evidence for prehistoric activity but more significant medieval remains including a pottery kiln. Similarly, two sites on the High Street in Guildford yielded 12th and 13th-century occupation evidence, in both cases followed by a blank period before 17th century re-occupation, with interesting insights into the diet of that period.
A4 soft cover, 212pp, illustrated throughout including 21 colour plates
ISBN 978-0-9561974-0-5
Price: £15.00
Monograph 12: Archaeological Investigations along the line of Ermin Street in West Berkshire, 1992-2008
Thatcham has seen sporadic, small-scale archaeological investigations since the early years of the 20th century. Recent work, reported in this volume, has added significantly to our understanding of the early development of settlement here. This monograph presents the results of small excavations at Turnpike School, at several locations on Bath Road, and at Church Gate, and summarises results of smaller watching briefs and evaluation trenching exercises.
Among the prehistoric finds at the former Turnpike School, Newbury, there is rare evidence for late Neolithic occupation, including the skull of an aurochs, the huge ancestor of modern cattle. A late Bronze Age burnt mound shows occupation in that period too. On Bath Road, several minor investigations have confirmed the presence (in places) of the Roman road from Silchester to Cirencester, and showed occupation from the 2nd century AD to the 4th, stretching along the road for at least a kilometre. Similar evidence is also explored on the far side of Newbury, at Wickham House.
Early to Middle Saxon pottery has also been recovered, although this provides only ambiguous evidence for occupation at this time. Finally, the site at Church Gate shows medieval evidence of land boundary ditches from the 12th and 13th centuries.
A4 soft cover, 77pp, illustrated throughout including 11 colour plates
ISBN 978-0-9561974-0-54
Price: £10.00
Monograph 13: Archaeological Investigations to the south of Reading, 2002-2008
A series of archaeological investigations conducted as part of the planning process has added to our knowledge of Roman settlement and landscape exploitation in an area south of modern Reading, Berkshire. None of the archaeological sites reported here are remarkable in themselves, nor are there abundant finds, nor any spectacular individual objects to record, but the steady accumulation of evidence from many such small sites can transform the way such areas are perceived. These sites, in particular, which all lie less than a day's journey from Silchester, provide a valuable contribution to an understanding of the nature and development of the hinterland of the Iron Age and Roman town.
The five sites reported in this volume include: a Roman occupation site and landscape management at Three Mile Cross; a very similar late Iron Age/early Roman settlement and landscape in south Reading, and at two smaller sites in Shinfield; while a final short paper reports on a Bronze Age pit and Iron Age 'currency bar' hoard from south Reading.
A4 soft cover, 61pp, illustrated throughout including 10 colour plates
ISBN 978-0-9561974-1-2
Price: £10.00
Monograph 14: Settlement and Landscape Archaeology in the Middle Thames Valley: Slough and Environs
This volume presents the results of archaeological excavations on five sites in and around Slough, all undertaken under the provisions of town planning legislation. On two sites to the west of Slough at Cippenham, evidence was uncovered of sporadic land use from the Neolithic period onwards, which complements the results of earlier work in this area (see TVAS Monograph 3). Medieval occupation in this area seems to have been abandoned unusually early (in the 12th or early 13th century) perhaps as a result of emparkment for a known 13th-century deer park.
North-east of Slough, sites at Wexham (one in Berkshire, the other just across the county border in Buckinghamshire), again provide evidence for multiple periods of use, including Iron Age and Saxon settlement at Wexham Road, and Bronze Age and most notably extensive Roman settlement at All Souls Farm quarry. Finally, also in Buckinghamshire, Bronze Age settlement was revealed at Beaconsfield, by one of the first large area excavations in this part of the county. The results from all of the sites are backed by a programme of radiocarbon dating.
A4 soft cover, 203pp, illustrated throughout including 28 colour plates
ISBN 978-0-9561974-3-6
Price: £15.00
Monograph 15: Bronze Age and Roman settlement, with Neolithic and Saxon burials, at Itchen Farm, Winchester, Hampshire
Excavations just south of Winchester uncovered evidence for a long sequence of use of the site. A number of pits and a single child's burial are radiocarbon dated to the early Neolithic period. The child burial is one of a very small number of such burials known from that era. During the Bronze Age, a post-built roundhouse occupied the site.
The main focus of the evidence derives from a series of ditched enclosures defined, re-modelled, and re-defined between the late Iron Age and late Roman periods. This sequence seems unlikely to have started much before the Claudian conquest, and the site was abandoned by around the middle of the 4th century, the latest features probably representing deliberate dismantling and clearance of the occupation. There are neither structural remains nor, until the end of the period, pits for storage or refuse, but finds are present in such quantity in the ditches that the site must have been occupied at least in the early and late phases; there is a marked decrease in finds in the middle of the Roman period. This site produced important evidence for the economy of the Roman settlement, which included textile production. A single grave seems to be the latest Roman feature on the site.
Finally, two graves contained Roman finds but are firmly dated by radiocarbon to early Saxon times, probably contemporary within the early 7th century. No other Saxon material was recovered from anywhere on the site and it is unlikely that there is any possibility of continuity over the centuries between the last Roman use and these interments.
A4 soft cover, 76pp, illustrated throughout including 13 colour plates
ISBN 978-0-9561974-4-3
Price: £10.00
Monograph 16: Iron Age Iron Production Sites in Berkshire
The archaeological record for the Iron Age has been surprisingly short on iron - use of objects made of iron is rather limited, and there are remarkably few known production sites. Recent excavations in Berkshire, backed by a programme of radiocarbon dating, have begun to change that. At Sindlesham, a buried dump of slag consisted of what seems to be the largest quantity of Iron Age iron slag so far recorded in the country, associated with a series of simple pit furnaces for smelting, charcoal clamps and ore roasting pits, and provided a series of radiocarbon dates spanning the early and middle Iron Age, with evidence of unexpected re-use of the site in the Saxon period.
At Three Mile Cross, near Reading, iron production covering a similar date range was on a much smaller scale; coincidentally also with Saxon re-use. A third small site at Finchampstead also produced a single middle Iron Age furnace used for iron smelting. Analysis of the slags reveals that the raw material source was probably bog ore, low grade ore but widely available, so that the locations of production sites seem to have been more dependent on a fuel source (wood for charcoal) than on the ores themselves.
A4 soft cover, 118pp, illustrated throughout including 27 colour plates
ISBN 978-0-9561974-6-7
Price: £15.00
Copyright © 2022 TVAS | Design by Digi Toolbox