THAMES VALLEY ARCHAEOLOGICAL SERVICES
Occasional Paper 31: Further Burials in the Guildown Saxon Cemetery at Guildford, Surrey
A small archaeological excavation explored a new area of the well-known Saxon cemetery, west of Guildford town centre, known as the Guildown 'execution cemetery'. Over 200 burials had been excavated in the early 20th centaury, and the cemetery was already regarded as unusual, yet the application of modern techniques of osteological and isotope analysis has added new components to this intriguing site. Seven graves were exposed, containing the remains of a minimum of 10 individuals. Two phases of burial have been identified, characterized by those displaying the expected furnished early medieval inhumations, and later, non-normative graves. Artefacts and radiocarbon dating indicate an extended period of use, spanning the 6th to 11th centuries AD. The majority of inhumations were buried in supine and extended positions. The exception to this was the unusual inclusion of a semi-disarticulated secondary burial (re burial) of an adult man into a double grave with a younger adult male. Additional in expected observations included the likely prior removal of two skeletons, possibly during previous investigations in the 1920s. Osteological analysis revealed the earliest graves contained a mixed group, including an adolescent and a woman. The later phase of burial comprised solely adult men. No evidence of execution was observed. Isotopic analysis of three men from the later graves suggests that they were not locals.
A4 soft cover, 46pp, illustrated throughout including 21 colour plates.
ISBN 978-1-911228-32-5
Price £9.00
Occasional Paper 32: Iron Age and Early Roman Occupation and a Middle Iron Age Burial at Cheriton Road Sports Ground, Folkestone, Kent
This slim volume details the results of archaeological excavation in advance of development in Folkestone, on the south coast of Kent. The excavation revealed an extensive spread of occupation deposits, with some human burial, dating from the Late Bronze Age through to early Roman times. The earliest features were a single ditch and a possible cremation burial of Late Bronze Age date. The whole of the Iron Age extending into early Roman times seems to have been well represented. The Middle Iron Age dating is supported by a radiocarbon date of 365-164 cal BC. An inhumation burial associated with a second radiocarbon date of 428-353 cal BC was an unusual discovery for this period. A small collection of struck flint includes Mesolithic and possibly upper Palaeolithic material.
The bulk of the site's activity belongs to the late Iron Age and early Roman period with the creation of ditched field systems and enclosures. A number of pits resemble grain storage pits in profile, and the faunal remains from the site suggest that the settlement was largely self sufficient with cattle being raised into maturity whilst sheep were being consumed at an earlier age, which is a fairly typical pattern for the region. No evidence of any structures was found in the excavation area but it is possible that these were located outside of the excavation area. A modest collection of pottery suggests the site was already out of use by the end of the 1st century AD.
A4 soft cover, 51pp, illustrated throughout including 10 colour plates.
ISBN 978-1-911228-33-2
Price £9.00
Occasional Paper 33: Two Iron Age Smelting Sites in Berkshire and North Hampshire, Archaeological Excavations on sites in Riseley and Reading
Two excavations, one in south Reading, Berkshire and a second in Riseley just over the Hampshire side of the county boundary, revealed sites predominantly of middle Iron Age date. The Riseley site was slightly more extensive, with two ring-gully structures and evidence for a small field system. Some re-use of the site also took place in early Roman times. The Reading site contained a Late Bronze Age roundhouse, Early Iron Age pit and a Roman ditch in addition to a single Middle Iron Age gully. The detailed chronology of both sites is supported by a series of radiocarbon dates.
The unifying aspect of the two sites is that in the middle Iron Age, both were involved in small-scale iron smelting using phosphate-rich (bog) iron ore. These two excavations add to a corpus of similar sites now recorded for an area broadly south and south-east of Reading encompassing parts of north Hampshire and north-west Surrey. The corpus is well documented with radiocarbon-based chronology and detailed metallurgical analysis of the slag recovered.
A final short chapter of the volume assesses the significance of these data in the wider context of the Origins, development and subsequent demise of an iron production 'industry' in this area in the Iron Age.
A4 soft cover, 49pp, illustrated throughout including 23 colour plates.
ISBN 978-1-911228-39-4
Price £9.00
Occasional Paper 34: Iron Age and Saxon Occupation in Long Crendon, Buckinghamshire
The results of two archaeological excavations carried out in advance of development in Long Crendon in Buckinghamshire are reported in this volume. Both of the sites, not far apart on the eastern and south-eastern fringes of Long Crendon, revealed Middle and Late Iron Age occupation evidence, in the form of field boundaries, large and small pits, and including one post-built roundhouse and several four-post structures of the type normally considered to be granaries. At Madge's Farm, a large volume of medium/small pits related to quarrying and part of a ridge and furrow field system were also uncovered. Finds included two Iron Age slingshots, which may take on added signifiance in the light of recent confirmation of the presence of a multi-vallate hillfort at the north of the modern village. On the other site, at Wainwrights, a crouched child burial is tentatively dated to the Iron Age. This site also provided evidence for early to middle Anglo-Saxon occupation. The Iron Age and Saxon chronologies are supported by radiocarbon dating.
A4 soft cover, 77pp, illustrated throughout including 22 colour plates.
ISBN 978-1-911228-37-0
Price £9.00
Occasional Paper 35: Later Neolithic Pits, a Bronze Age ring ditch and early Anglo-Saxon buildings at Braywick Park, Maidenhead, Berkshire
An open excavation revealed deposits that show a long but discontinuous use of the site from the later Neolithic through to the early Saxon period. Radiocarbon dates place a small cluster of pits containing Peterborough Ware pottery at the very start of the 3rd millennium BC. These are considered to represent rarely encountered occupation deposits of this period. More than a millennium later the site was used to construct one, possibly two ring ditches likely to represent now levelled Early Bronze Age burial mounds, though no burial deposits were revealed. The frequent presence of ring ditches on the gravel terraces of the Thames shows how densely used the valley was in the earlier part of the Bronze Age, despite meagre evidence for contemporary occupation sites. Finally, after another two millennia, the site was used for early Saxon occupation, in the form of six sunken-featured buildings and other features, which radiocarbon dating helped to show, were not all contemporary.
A4 soft cover, 40pp, illustrated throughout including 15 colour plates.
ISBN 978-1-911228-36-3
Price £9.00
Occasional Paper 36: Middle bronze Age to Middle Iron Age occupation at The Paddocks, Nutbourne, Chichester, West Sussex
The archaeological excavation revealed two clusters of features, one consisting mostly of pits (or tree-throws) and one mostly of post-holes, which appear to form at least five roundhouses. Overall there is clearly occupation on the site, probably sporadically, from the Middle Bronze Age to the Middle Iron Age. Four radiocarbon dates support the ceramic chronology. Southern English Later Bronze Age settlement displays a wide range of occupation site form. Sometimes this comprises just single roundhouses, as at Gosport or Westhampnett; sites with a greater or lesser degree of enclosure as at North Bersted or Ford Airfield, Yapton; large enclosures, ringworks or proto-hillforts; and burnt mounds as at Patchling. Another form is that of unenclosed, dense groups of pits and post-holes, lacking any obvious organized layout, as at Selsey, and further afield at Ringwood, Hampshire, Knights Farm, Berkshire and Roundhouse Farm, Wiltshire. It is to this latter group that the site at The Paddocks belongs.
A4 soft cover, 31pp, illustrated throughout including 13 colour plates.
ISBN 978-1-911228-38-7
Price £9.00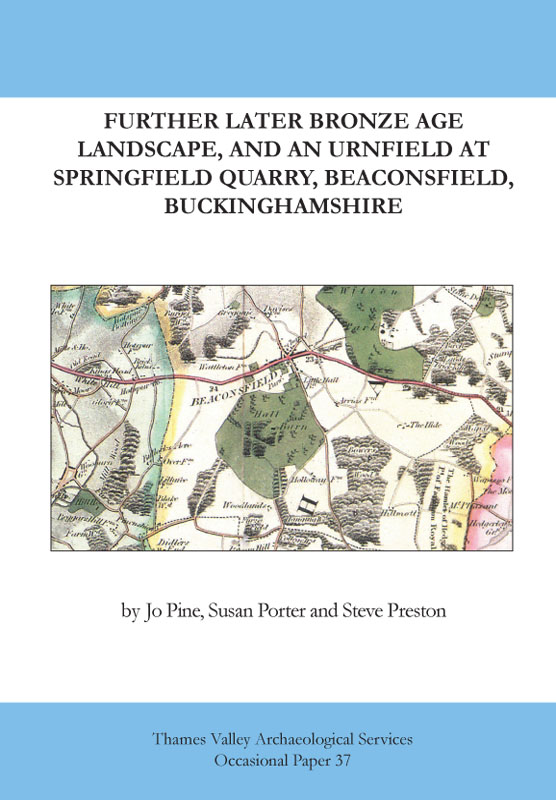 Occasional Paper 37: Further Later Bronze Age landscape, and an Urnfield at Springfield Quarry, Beaconsfield, Buckinghamshire
This volume reports on further archaeological work on the extensions to Springfield Quarry, where excavations previously published in TVAS Monograph 14, have uncovered Middle Bronze Age and Late Bronze Age/Early Iron Age landscape features. The latest work extends our knowledge of the use of this landscape, seeing the beginnings of land division, and then an expansion of that managed landscape, including two large enclosures. More significantly, it has helped refine the chronology (making much more sense of the site's development), and added a completely new element in the form of an urnfield. The chronology of the site is supported by an extensive pottery assemblage and five radiocarbon dates. Other finds were very few and environmental remains limited.
A4 soft cover, 45pp, illustrated throughout including 13 colour plates.
ISBN 978-1-911228-40-0
Price £9.00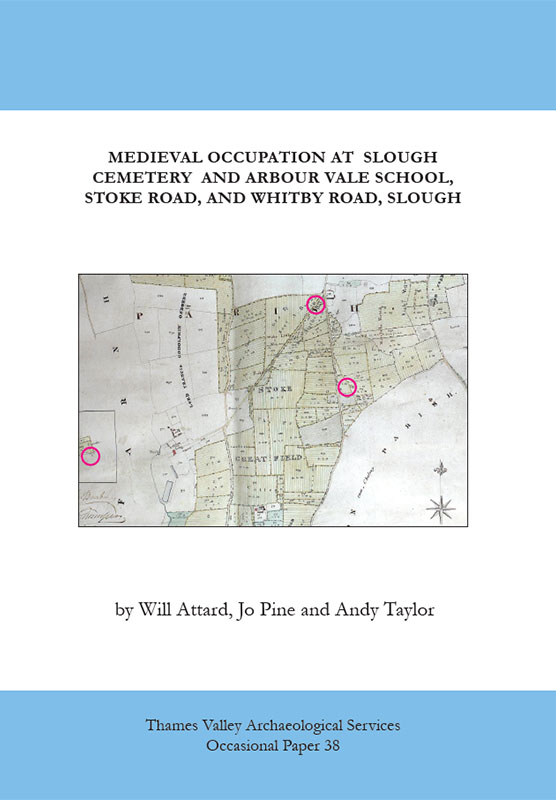 Occasional Paper 38: Medieval Occupation at Slough Cemetery and Arbour Vale School, Stoke Road and Whitby Road, Slough
This paper details the findings of two archaeological excavations undertaken at locations on the northern fringes of Slough, Berkshire (though one of the sites was just across into Buckinghamshire), as well as features from an evaluation.
On a site destined to become an extension to Slough cemetery, an area defined within a substantial boundary ditch seems to have been used to quarry brickearth in the 12th or 13th-century, the quarries then filled with domestic waste. Although finds included substantial building materials such as faced flint nodules and tile, no structural remains were present below-ground. There was evidence for a short-lived burst of blacksmithing. Pottery came from a variety of sources, suggestive of at least some wealth wherever the accompanying houses may have been.
At Arbour Vale School, just a little further south, very similar quarrying appears to date perhaps a century earlier. Here, again, there was no real evidence for a habitation other than limited disposal of domestic waste, and finds were every sparse, suggesting that this site is more likely to represent a single farm.
At Whitby Road in Slough Trading Estate, an area with little recorded archaeology, further early medieval features were revealed below a buried soil during an evaluation. The subsequent development groundworks did not expose the archaeological levels in this location and the significance of these deposits will have to await a future opportunity for study.
A4 soft cover, 53pp, illustrated throughout including 20 colour plates.
ISBN 978-1-911228-42-4
Price £9.00
Occasional Paper 39: Middle Bronze Age to Iron Age Occupation and a Roman Field System at Cerney Wick Farm, Cerney Wick, Gloucestershire
Excavations within the Cerney Wick Farm quarry complex revealed a landscape occupied from the Middle Bronze Age through to the Post-Medieval period. The chronology of the occupation episodes is supported by radiocarbon dating. The earliest feature was a small ring ditch, dated to 1695-1604 cal BC. A small later Bronze Age settlement comprised four post-built roundhouses, pits and postholes. There is a suggestion of Later Bronze Age-Early Iron Age activity with a gully and possibly a contemporary post-built roundhouse.
In the Middle Iron Age a small farmstead was established, comprising a roundhouse and land divisions. This was replaced by a new roundhouse set within an enclosure in the Middle to Later Iron Age.
Roman occupation is sparse with a suggestion of a field system and a few boundary ditches. In the Post-Medieval period the area was intensively utilized with a trackway and water meadow system. The agricultural regime then changed with a late version of ridge and furrow overlying the water meadows.
A4 soft cover, 56pp, illustrated throughout including 14 colour plates.
ISBN 978-1-911228-43-1
Price £9.00
Occasional Paper 40: Iron Age and Roman Occupation in the Hampshire Basin: Archaeological Investigations at Stubbington, Eastleigh and Netley, 2017-2019
This volume presents results of investigations on three sites in an area close to the south coast in Hampshire, which has previously received relatively little archaeological investigation.
The largest of these investigations was on the line of Stubbington Bypass, where areas totalling just over 1ha were opened. Three of these areas revealed a moderate density of archaeological features, including ditches and gullies forming boundaries, rubbish pits, postholes and water holes belonging to the early Roman period. They testified to a rural occupation site and field system, that lasted for a few centuries before abandonment in the late 2nd century AD.
Two small areas excavated at Hatch Farm, Eastleigh, revealed deposits of mainly Iron Age date. A single short length of gully and residual pottery dated from the Bronze Age. The earlier part of the Iron Age was represented by a ditch which contained a small amount of slag from a smithing furnace. Subsequent Iron Age activity, perhaps more than two centuries later, is likely to represent part of an enclosed occupation site.
At Grange Road, Netley, a small open area excavation revealed part of a Middle Iron Age occupation site represented by pits and postholes with a radiocarbon date of 404-228 cal BC.
A4 soft cover, 66pp, illustrated throughout including 25 colour plates.
ISBN 978-1-911228-44-8
Price £9.00
Occasional Paper 41: A Sub-Roman Cemetery at Whithill Quarry Extension, Lillington, Sherborne, Dorset
This paper details the findings of a small excavation undertaken by TVAS South West in advance of quarrying, which uncovered a cemetery of some twenty inhumation burials, two of which were radiocarbon dated to the late 6th or 7th century AD. It is likely that other burials would have been located in an area already previously quarried away to the south and/or east, but the limits of the cemetery to the north and west were clearly established, albeit unmarked. The buried population included seven adult females, six adult males and seven children, all buried without grave goods (one possible exception being a finger ring) but in a tidily organized cemetery layout. Isotope analysis indicated that they grew up and lived in the region of the cemetery
A4 soft cover, 49pp, illustrated throughout.
ISBN 978-1-911228-48-6
Price £9.00
Occasional Paper 42: A Middle Iron Age Enclosure and a Second World War Heavy Anti-Aircraft Battery at Pirton Fields, Churchdown, near Gloucester, Gloucestershire
Archaeological excavation on the outskirts of Gloucester revealed evidence of episodic use of the site, from the later Bronze Age through to the 20th century. Bronze Age pits and linear features probably represent traces of occupation and a field system. This developed in the Iron Age with the inclusion of a ring gully house site and in turn was enhanced by construction of a discrete enclosure, with evidence suggesting that the subsistence economy was predominantly pastoral. Three radiocarbon dates support the Iron Age chronology. The settlement is considered to have thrived in the 5th Century BC but had gone out of use before the onset of the Late Iron Age.
The site was farmed in Roman times as a few traces of a field system were revealed, and again during the Medieval or Post-Medieval periods as evidenced by widespread ridge and furrow. The final phase of use comprised the construction and use of a Second World War anti-aircraft battery, remains of which were extant at ground level.
A4 soft cover, 49pp, illustrated throughout including 14 colour plates.
ISBN 978-911228-49-3
Price £9.00
Occasional Paper 43: A Middle Bronze Age Ring Ditch and Roman Settlement Enclosures at Netherhouse Copse, Hitches Lane, Fleet, Hampshire
This volume presents results of archaeological investigations on one large and several smaller areas within a site in an area close to the north-eastern border of Hampshire, which until recently had received relatively little archaeological investigation. Use of the site began in the Middle Bronze Age with the digging of ditches and a ring ditch. The ring ditch (barrow) was only 4m across and was associated with an urned cremation burial which returned a Middle Bronze Age radiocarbon date of 1214-1012 cal BC. No dated artefacts were recovered from the ring ditch. Area F revealed a pair of linear features aligned at right angles to each other, of Middle to Late Bronze Age date, containing pottery and returning two radiocarbon dates of 1256-1156 cal BC and 1111-970 cal BC. They are considered to be elements of a Bronze Age field system, but the location of any contemporary settlement remains unknown. There was then a lengthy gap until Roman use of the site which formed an agricultural settlement, as an initial enclosure which developed in at least five phases, three early Roman and two late, apparently with a break in between. The settlement is considered to have been of modest status in all phases, with no conspicuous examples of material wealth, and certainly no elaborate architecture, but the occupants were not necessarily impoverished and certainly disposed of a substantial pottery assemblage. On the basis of admittedly tentative evidence, the economy of the site is considered to have been predominantly pastoral. The results are related to recent excavations on a nearby site to the north.
A4 soft cover, 63pp, illustrated throughout including 12 colour plates.
ISBN 978-911228-50-9
Price £9.00
Occasional Paper 44: Excavation of Neolithic Pits, Late Bronze Age Occupation, Late Iron Age into Roman Field System and Saxon Pits at Roke Manor Farm, Shootash, Romsey, Hampshire
This volume presents the results of archaeological investigations in advance of sand and gravel extraction. The first phases of excavation revealed an extensive field system including a possible droveway, dated to the Late Iron Age-Early Roman period, into which two enclosures were incorporated. The smaller enclosure in the south-eastern quadrant was possibly contemporary with the field system but only scant dating evidence was recovered. The larger enclosure at the western edge of the excavation was securely dated to the Early Roman period. The latter was only partially uncovered by the fieldwork and it is not clear if this was an occupation site or was simply another component of the organised landscape. The fourth phase of excavation revealed the eastwards continuation of the Late Iron Age-Early Roman field system and droveway, but added unexpected new components in the form of Late Neolithic pits, a dense cluster of Late Bronze Age occupation features, and two Anglo-Saxon pits. The chronology is supported by radiocarbon dates. The final phases of extraction extended this range of features with several discrete clusters of unenclosed and only very loosely organized Late Bronze Age settlement. A substantial pottery assemblage was recovered (though very few other finds) and the chronology is again supported by radiocarbon dates centred on the 9th and 10th centuries cal BC. Shallow ditches and gullies, although undated in this area, also appear to extend the Late Iron Age or Early Roman landscape seen to the west. The most notable feature on the site is a Late Bronze Age pit which contained 22kg of pottery from at least 18 vessels, radiocarbon dated to 1125–969 cal BC. The Saxon pits, one of which dated to AD 659–729 contained iron smelting slag but no furnace was present.
A4 soft cover, 79pp, illustrated throughout including 21 colour plates.
ISBN 978-1-911228-54-7
Price £9.00
Occasional Paper 45: Late Neolithic, Bronze Age, Roman and Anglo-Saxon Occupation at George Green Quarry, Wexham, Slough, Buckinghamshire
A programme of archaeological fieldwork in advance of gravel extraction has revealed a range of settlement deposits of Late Neolithic, Bronze Age, Early Roman, Middle and Late Saxon dates. The chronology is supported by radiocarbon dating. The Late Neolithic was represented by a single pit and residual struck flints. A very loose cluster of poorly-dated pits may be Early Bronze Age. The Middle Bronze Age was better represented, in the form of a small cluster of postholes and pits, the latter sometimes with in-situ pots. Later Bronze Age deposits were more numerous, with four clusters of pits and postholes perhaps representing individual occupation foci. There was still no evidence for enclosure nor other land division. Although some of the pottery recovered appears to be of Middle Iron Age date, no deposits of this period were recorded and only into the 1st century AD was there evidence of renewed settlement, whose form mirrors that of the preceding periods. The Roman activity ceased in the 2nd century AD with very few sherds of later Roman pottery present; a disruption frequently observed in the low-status rural settlement record of the region. The final significant activity on the site was a dispersed group of deposits of Saxon date. A Middle Saxon phase was represented by a small cluster of pits surrounding a well. Four hundred metres to the north, a second cluster of features including a post-built structure was tentatively assigned to a Late Saxon phase. A few sherds of Medieval pottery, ridge and furrow and post-medieval boundaries complete the summary of the deposits recorded.
A4 soft cover, 87pp, illustrated throughout including 17 colour plates.
ISBN 978-1-911228-57-8
Price £9.00
Occasional Paper 46: A Middle Bronze Age field system, occupation and burial with Neolithic and Saxon pits, and Roman ditches at Littleworth road, Benson, Oxfordshire
The fieldwork examined an extensive spread of archaeological deposits mostly assigned a Middle Bronze Age date. In particular, a large area of enclosed landscape (field system) has been closely dated to the Middle Bronze Age by a series of four radiocarbon dates suggesting it was in use from about 1400-1200 BC. The field system was unusually rich in finds of pottery and animal bone, the latter including horse, an animal likely to have been of special status at this time. A bronze side-loped spearhead was also recovered. The field system is thought to be indicative of the presence of an elite in society. Despite the volume of artefacts, deposits representing settlement activity were few. The extensive examination of a contiguous area has been of particular significance in understanding the nature, layout and chronology of the field system, a perspective unobtainable from smallscale interventions. A few Neolithic and Early Bronze Age pits were recorded along with a few clusters of Middle Bronze Age occupation features that predated the field system. Finally, a few ditches of Roman date were recorded along with a single large Anglo-Saxon pit or waterhole, radiocarbon dated to the 6th century AD. There was almost no correspondence of the features here with those excavated previously on the adjacent site to the south, in terms either of landscape organization or of chronology.
A4 soft cover, 74pp, illustrated throughout including 16 colour plates.
ISBN 978-1-911228-58-5
Price £9.00
Occasional Paper 47: Middle and Late Iron Age Occupation on Land North of Croft Road, Spencers Wood, Reading, Berkshire
This volume details the archaeological excavation in advance of a develoopment to the south of Reading in Berkshire, of a Middle to Late Iron settlement comprising a round house and adjacent boundaries. Two main phases of activity were represented, dating from the 4th to the 1st century BC. Only very small quantities of finds were recovered but the pottery chronology is supported by six radiocarbon dates. Faunal remains did not survive but an extensive programme of soil sampling revealed no charred arable remains, which might be taken to indicate a pastoral economy. Of some note are two ball-like objects of fired clay, plausibly interpreted as slingshots. A waterhole also thought to have been constructed in the Middle Iron Age contained preserved organic remains and remained in use into early Roman times (confirmed by a radiocarbon date, as there was very little Roman pottery on the site). The waterlogged remains from the fills of the waterhole indicated a locally open environment but with mature oak woodland nearby. As with many Middle to Late Iron Age rural settlements, the site was abandoned before Roman influecnce came to be widely felt. The presence here of securely dated Middle Iron Age fields associated with a settlement adds to a surprisingly small corpus of such evidence for the region.
A4 soft cover, 32pp, illustrated throughout including 13 colour plates.
ISBN 978-1-911228-59-2
Price £9.00
Occasional Paper 48: Neolithic and Bronze Age Pits and a Late Iron Age Linear Ditch at Salisbury Road, Hungerford, West Berkshire
A programme of archaeological fieldwork in advance of a housing development at
Salisbury Road, Hungerford, revealed prehistoric features dispersed widely across the
site. The excavation investigated a small cluster of Earlier Neolithic pits along with three
isolated pits of similar date, a cluster of Late Neolithic pits, Bronze Age activity and
a linear ditch of Late Iron Age to Roman date. One Early Neolithic pit was especially
rich in finds, with close to 2000 stuck flints, and sherds of pottery from at least eleven
vessels. The prehistoric chronology is supported by radiocarbon dates. The survival of
mollusc shells provided information on the palaeoenvironment in the Early Neolithic
and from the Late Iron Age/Early Roman period up to the present day. A notable find
was a Roman iron lamp from the linear ditch. The ditch seems to have taken several
centuries to fill in completely.
A4 soft cover, 39pp, illustrated throughout including 12 colour plates.
ISBN 978-1-911228-59-2
Price £9.00
Copyright © 2022 TVAS | Design by Digi Toolbox